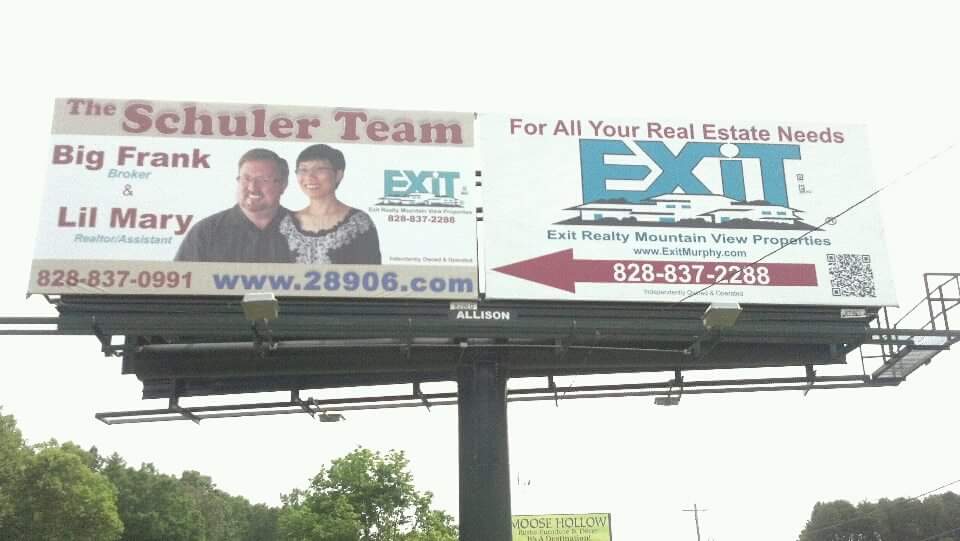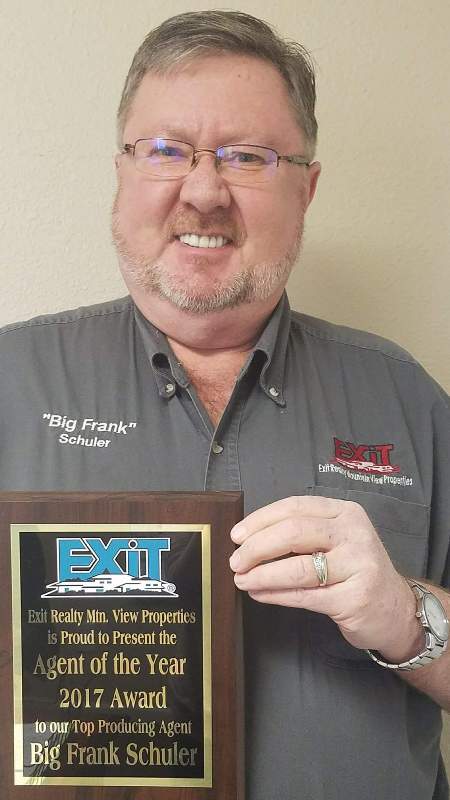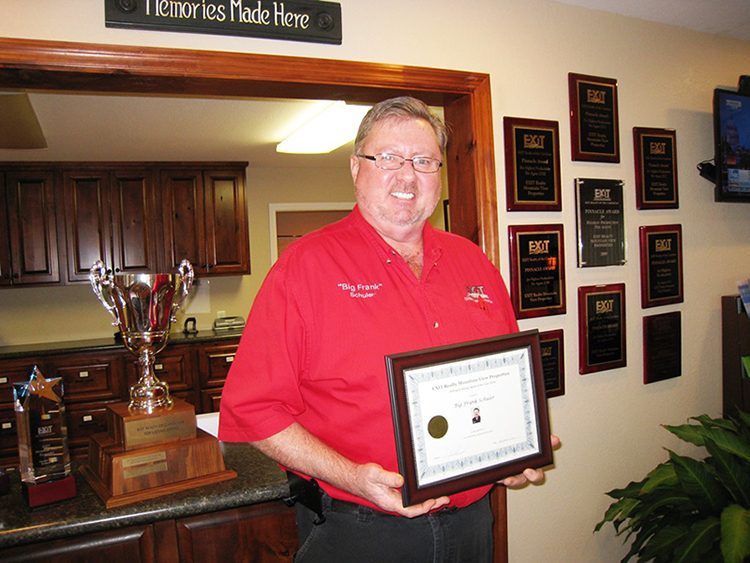 Big Frank Schuler has been in the housing business in Florida & North Carolina since 1981 to present. Licensed Realtor/Broker in NC & GA, Big Frank just celebrated his 14 years working with EXIT Realty Mountain View Properties, Murphy NC 28906. He is a Top Producer of The Year and is in the Top Ten Agent of all EXIT offices in NC in the last 14 years and is again, earning Top Selling & Listing Agent of 2018 with EXIT. He focuses, provides top-notch customer service and helps people succeed. With over 38 years experience, competent and compassion, reputation and technology knowledge that make Big Frank successful in his real estate career.
Big Frank's expertise is helping YOU find your next homes and sell your current homes. He is professional, always makes his clients a priority, knows the real estate markets and trends. Buying your dream home is exciting but at the same time is mostly an intimidating process for many people and Big Frank understands that. He LOVES his job. He loves making people laugh, seeing people happy and stress-free. Big Frank always goes beyond to help clients and work with the local lenders, inspectors, builders, appraisers, surveyors, and other professionals to make sure the transaction process go smoothly.
Having moved to Murphy NC from Leesburg FL back in 1996 and he has never looked back. Being originally from New England, MA. With his busy schedule and is a hard worker, Frank tries to take a day off (Sunday) to go to the Church with his wife and take every opportunity to be outdoors and play with their three beautiful dogs Maggie, Olaf, and Dohdoh. He loves fishing and boating on the beautiful Lake Hiwassee, Lake Nottely, Lake Chatuge, Cherokee Lake... Big Frank also loves the Antique hunting at our local Flea Markets, rides on the backroads and shoots the wildlife with his camera.
As a member of the NC and GA MLS (Multiple Listing Services), Big Frank can assist you to locate all properties currently for sale in the market Western NC and Northeast GA.
For your easy searching, click on
View My Listings
and
Featured Listings
button at the top of this page to view his active properties and others' currently for sale on the market. Call Big Frank any time to let him know what specific features of a home/property that you are looking for and to schedule a showing.
Mary HongPhuc Le Schuler (Lil' Mary) has been in Real Estate since 2010. She is a licensed Broker/Realtor in NC. She works many years in hospitality and customer service industry, recruiting, training, import & export in Vietnam, France, and U.S. Mary can speak Vietnamese, English, French and some Mandarin and worked over 4 years as a Senior Executive Casino Host-Multi Lingual at Harrah's Cherokee Casinos. Mary is great at translating and putting customers at ease about making their move.
Enjoy being an entrepreneur and working together with her husband Big Frank, Mary is an invaluable member of The Schuler Team and customer relations. She works hard to make sure using cutting-edge technology to market and promote properties for sale exposure on over 300 professional real estate websites, blogging, and social media that giving our clients/customers the best opportunities to search, buy, sell and invest in real estate in the mountains.
Falling in love with Big Frank and the beautiful mountains when Mary first came to Murphy, she is proud to call Murphy home. Mary enjoys reading, gardening, cooking spicy dishes and using lots of fresh herbs and vegetables. She also enjoys painting, morning walking with her husband Big Frank and their three dogs. She enjoys so much being outdoors, hiking, fishing, and boating. Mary definitely loves to keep educating herself and has earned a Master's degree in Business at Western NC University (WCU).
Check out her
Blog
HERE.
Please don't hesitate to call, text, email Mary at 828-557-0273 / mary@28906.com.
Better yet, we will be happy to meet you in person. Please stop by at our office at EXIT Realty Mountain View Properties at 1900 Hwy 64 West, Murphy, NC 28906. We are just a phone call away 828-837-0991 Office: (828)837-2288 from Monday through Saturday.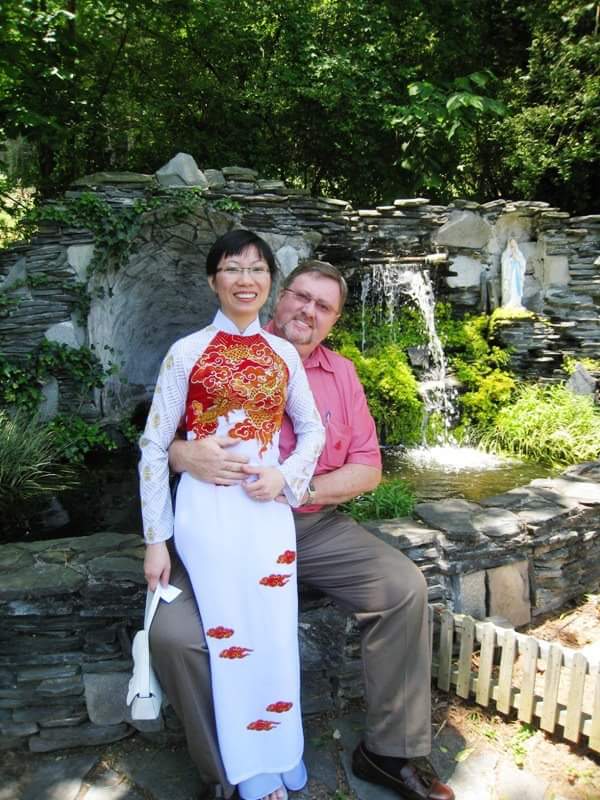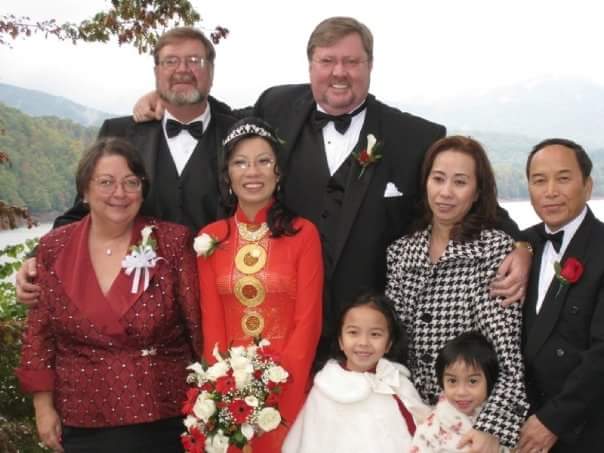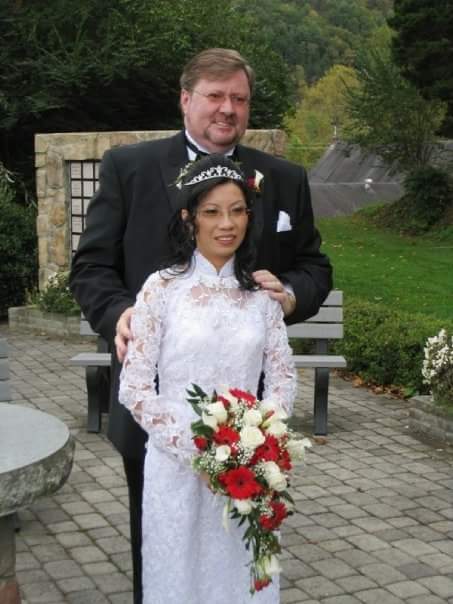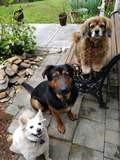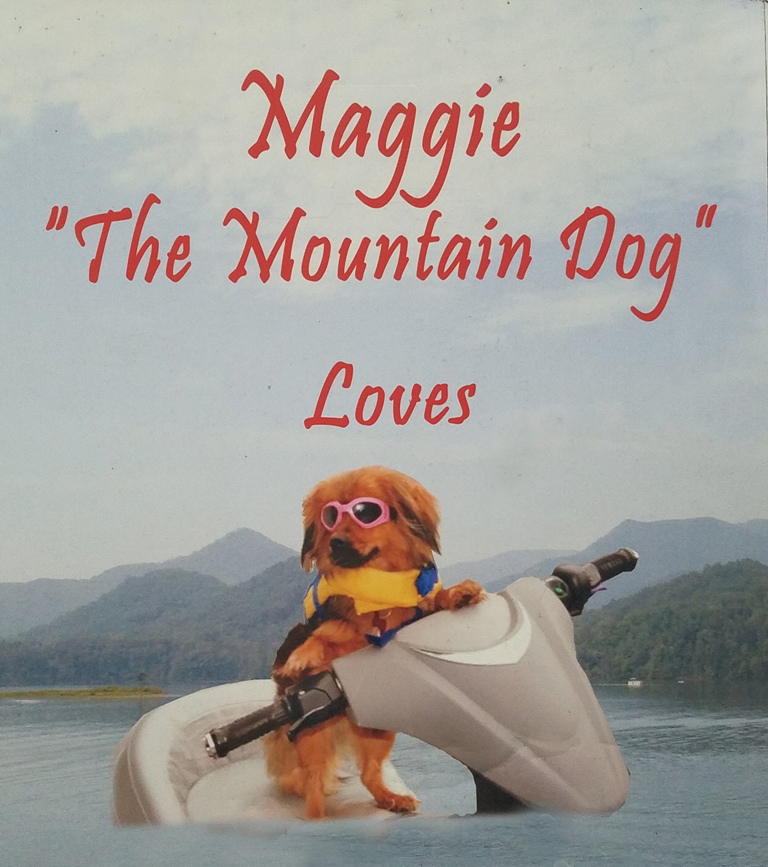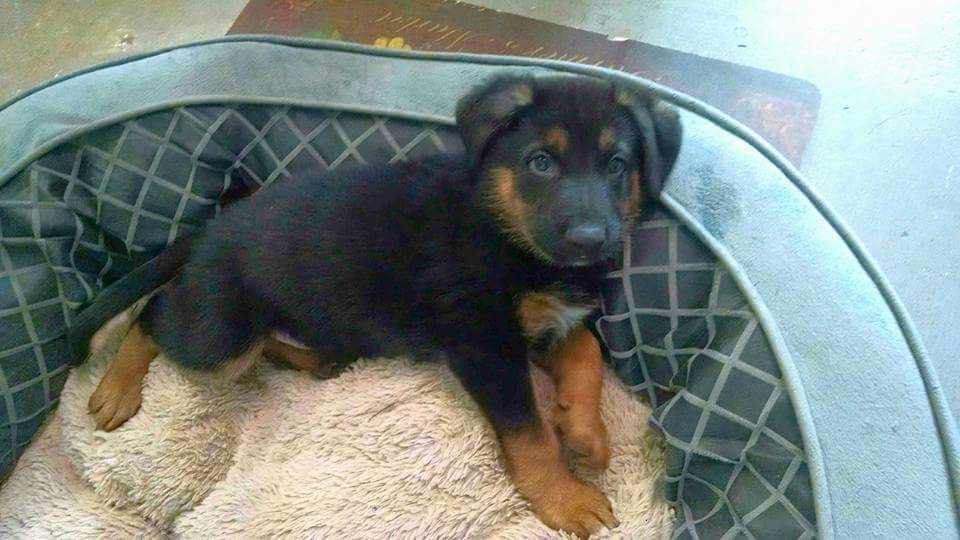 Dear Customers,
This is such an amazing time of year. The Schuler Team (my wife Lil Mary HongPhuc and myself) hope your Christmas and New Year 2019 is filled with great company, good food, meaningful traditions, and cherished memories.
Thank you for your business and support through the past years. It has been our pleasure to serve you. Please keep us in mind for future Real Estate services you may need.
If you have questions or would like a "free" market analysis of your home's worth, please call Big Frank 828-837-0991 and Lil Mary HongPhuc 828-557-0273.
Sincerely,
The Schuler Team.